CatCaveCo Cat Cave Beds Review: Snoozing in style
As an Amazon/CHEWY Associate, I earn from qualifying purchases.
Most cats spend about 12-15 hours per day sleeping or snoozing. So, if you have an indoor kitty that loves a secluded, warm and cozy place to nap, then getting a high-quality cat cave bed is a perfect choice. These cat beds provide a dark, tranquil and warm snoozing place to the cats and work well for both single as well as multi-pet homes. And they blend quite well with the home decor.
But, picking the right cat cave bed is important. So, when we got a request for reviewing the latest series of CatCaveCo Luxe Cat Cave Beds, we were happy to oblige. (Cat Cave Co is a family owned company, run by a brother and sister team that came together for their mutual love of cats and sustainability.)
In this article, we will list the key specifications and our experiences with the in-the-field performance of these warm and cozy cave beds and share our recommendations (assisted ably our resident indoor cat –  Hunter).
Disclaimer: We did receive a request to evaluate and review the CatCaveCo cat caves. However, the review here is totally independent and is driven only by the actual quality of the product and a little bit of our personal predispositions and the bias of our resident kitty!
CatCaveCo Cat Cave Beds Specifications
The key specifications of the CatCaveCo Cat Cave Beds are listed below:
Material: 100% natural felted Merino wool sourced directly from New Zealand. Organic and chemical-free. 100% natural and organic veggie-based dye. Ethically sourced wool.
Size and weight:

19″ diameter x 10 – 11″ height, 8″ entrance. A smaller size also available for some designs.
0.43″ – 0.52″ thick. Luxe caves are thicker than regular CatCaveCo cat cave beds. 1.6 – 1.8 lbs.
Suitable for a single cat or two kittens with total weight up to 17-20 lbs.
Indoor use only.

Cleaning and maintenance: Hand wash in lukewarm water and a wool-friendly cleaner. Air dry. May require minor re-shaping after a wash.
Style and Colors: Available in over 20 modern designs in a wide range of decorative colors.
Country of Origin: Designed in the US by family-owned business. Made in Nepal using traditional manufacturing processes. under strict quality control measures.
Warranty: 14-day full refund warranty and a 100% satisfaction guaranteed commitment.
Price Range: $$ to $$$ depending upon the design.
CatCaveCo Cat Cave Beds Review
To thoroughly review and evaluate the Cat Cave Co Luxe Cat Cave Bed, we primarily focused on the build quality, size of the cave, color, and style, ease of maintenance and price/cost of ownership. Our findings are summarized below:
Material and design
The Cat Cave Co cat beds have a build quality that is second to none in the market.
These cat caves feature a premium, 100% felted Merino wool body. The wool is sourced from New Zealand and the caves are handcrafted by skilled artisans in Nepal.  The material is soft and breathable that keeps the inside warm in winters and comfortably cool in summers.
These cat caves are still made by following the traditional manufacturing processes with only soap, water, and dyed wool and no chemicals. Even the dyes used are traditional, Azo-free, 100% veggie dyes.
Because of the traditional manufacturing process, the wool retains the natural lanolin smell. Most cats love the feel of lanolin and rub against the surface to reduce stress and itching.
If you are someone who does not like this smell, you may want to leave the cave for a couple of hours in the sunlight before first use.
The cat cave beds have anywhere from 0.43″ – 0.52″ thick walls. The Luxe cave beds ( including the one we tested) are thicker than the regular models because they use more wool. The thickness of the walls is comparable to the best-selling Meowfia cat caves, which have slightly thicker walls than these caves.
Like other cat caves, the CatCaveCo caves are versatile and can be used as a covered cave bed or flattened into a pet sleeping mat. The caves do a decent job at retaining their shape, though we had to apply some skills to reshape them back in shape after flattening out.
These cave beds do not come with a sleeping cushion or cover, so if your kitty likes one you will have to purchase it separately.
Size and weight
The size of the cat cave expressed in terms of the exterior/interior dimensions, and the size of the entrance is an important factor before picking the best cave for your pets.
The size of the cat cave bed that you should opt for is generally governed by the cat's breed and size, and the number of kittens or cats.
The Cat Cave Co cat beds are available in a large size with exterior cage diameter of 18″-19″ and a height of 10″-11″. The size of entrance varies from 7″-8″. This size is comparable to the best-selling Meowfia cat caves, though some of them may have a larger entrance. The CatCaveCo caves are also available in smaller sizes for some designs.
The interior space of the caves would be a few inches less, but still comfortably large for any medium to medium/large cat, even a Maine Coon. And two kittens or small short-hair cats can easily fit in the cave.
The weight of the caves varies from 1.6 to 1.8 lbs. Luxe cat cave models are heavier than the regular cat cave models because of more wool used in making them.
Just a side note on the size and weight of the cat caves – Since these cat caves are handmade the exact size may vary by a few millimeters. Keep that in mind before picking a cave of the right size.
Color and style
One of the biggest pluses with the CatCaveCo cat beds is that it is available in one of the widest selection of designs and color combinations. At any given time, the manufacturer offers about 20 options to choose from. Some of the most popular colors are teal-and-maroon, grey-and-pink and the evergreen western sunset.
Caves in new seasonal colors and designs are periodically available for purchase through Pre-Sale offers. These options take longer to ship and are generally available within 3-4 weeks. Same is true for Luxe and Regular cave options.
Depending upon your house décor and you and your kitty's preference, you can pick a cat cave bed with an appropriate design, shape, and color. You can always reach out to the manufacturer if you have a specific design or color in mind and check if those options would be made available any time soon.
Care and maintenance
Like other woolen products, felted-wool cave beds such as Cat Cave Co beds are not the easiest ones to maintain and require special care.
We recommend that you follow the mechanisms discussed below.
Light Cleaning: For wool cat caves, a standard lint roller would also work well. You can also use a hand-held vacuum like the Black and Decker to remove the debris and hair.
Spot Cleaning: Use cold water and a soft cloth with some mild wool cleaner. You can even use some baby shampoo as a cleaner.
Thorough Cleaning/Washing: For wool caves, hand wash in cold water with wool detergent and air dry. Slight reshaping may be required after a wash. You can stuff the inside with an old bedsheet or old towel to help the cave retain its shape. Do not machine-wash as it can decrease the lifespan.
In our evaluation period, we only had to use the lint roller and hand-held vacuum a couple of times to clean the surface, which was not too cumbersome.
Price
The CatCaveCo is a premium-priced product and about 10-15% costlier than many other cat cave beds. And if you go with the more luxurious and thicker Luxe models, you will have to spend a little extra.
Still, despite the premium price, these cat cave beds offer great value for money because of their build quality and lifespan.
A word of advice. From time to time, the manufacturer offers seasonal sales and discount on some of the designs. So, you can take advantage of those deals to save some money.
A note on the manufacturer
The CatCaveCo is a socially responsible organization. The company not only focuses on offering the best quality products but also drives multiple Corporate Social Responsibility (CSR) initiatives. The company also pays the artisans about twice the minimum wage for their work.
So, if you decide to purchase any of their products, you would also be indirectly contributing to the welfare of the artisans, especially women artisans, in Nepal.
The Verdict
Based on our evaluation and review of the product specifications and the in-field performance, we believe that CatCaveCo cat cave bed is an ideal, all-season cat cave bed for a medium to medium/large kitty.
It is durable, warm, cozy and comfortable for the pet and available in the widest variety of over 20 designs. And if you have an aggressive kitty (like our expert's) which likes to rub against the walls, you can go with the thicker, more stable Luxe Cat Cave bed.
To summarize, the major positives and negatives of the Cat Cave Co Cat Cave Bed that we observed are listed below:
Pros
Luxurious cat caves handmade of 100% felted Merino wool sourced from New Zealand. Designed in the US and handcrafted by skilled artisans in Nepal.
Feature a 0.43″ – 0.52″ thick felted wool surface that provides a naturally anti-bacterial and hypoallergenic material that cats love.
Comes in a large selection of medium to large caves with a 6″- 8″ opening suitable for cats of all breeds and sizes. Suitable for one or two cats weighing up to 17-20 lbs.
Versatile and multi-functional. Can be used as a cozy cave or flattened into a pet sleeping mat.
Available in over 20 regular and Luxe models in innovative designs and colors. Also available in medium size.
Backed by a 14-day full refund warranty and a 100% satisfaction guaranteed commitment post that by the manufacturer.
Cons
Like other wool cat caves, require special care while washing. Takes 10-12 hours to dry completely.
Premium-priced and slightly costlier than some other cat cave beds, though you get what you pay for.
Additional Cat Cave Company products
The Cat Cave Co is not only about cat caves. Their design team is always innovating and designing new products to launch in the market. We have tried their Kitty Twister and a couple of felt-toys and we couldn't be happier with the design and quality.
Some of our favorite Cat Cave Co product categories are listed below:
Kitty Twister Cat Activity Mat and Cat Toys
One of their latest innovative products is the versatile Cat Cave Co Kitty Twister, an activity mat made popular by WalkingPalm – another US-based company.
This recent innovative product is a fun and versatile activity mat designed specifically for cats and other small pets such as poodle dogs and rabbits. The Kitty Twister is also made of all-natural, hand-felted, merino wool. It is essentially a rugged yet soft and flexible strip that can be twisted into a number "8" figure and fastened to form tunnels, caves, or laid out flat as a modern and stylish lounge mat.
In addition to this, Cat Cave Co also offers a wide variety of felt-wool toys such as balls, mice, flirt teasers and even pirate hats.
Cat Wall Shelves & Furniture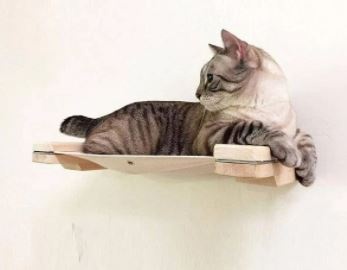 Cat Cave Co also offers some of the world's most famous cat wall shelves and furniture. These shelves, bridges and cat wall trees can be added to almost all types of wall surfaces and provide additional perches and surfaces for cat (or cats) to jump up on and lounge around.
Cat-Themed Winterwear for Humans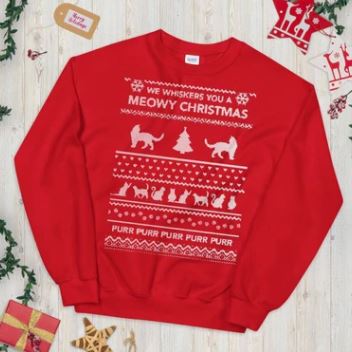 Cat Cave Co also offers unisex Christmas Sweaters with some excellent cat-friendly prints and designs. All sweaters are pure wool and available in different colors and sizes. Check out their collection now!.
Felt Wool for DIY Toys and Products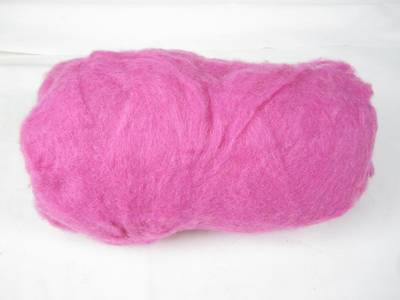 And if you are someone who loves DIY projects, the Cat Cave Co also offers raw felted wool. You can find all these products available at reasonable prices on the manufacturer website.
Final Thoughts on the CatCaveCo Cat Cave Beds
If your indoor kitty loves to nap in the cupboard, lounge in a cardboard box or hide under the bed, chances are it would love the luxury of a cat cave. But which are the best cat cave beds that you can get?
In this article, we reviewed one of the latest and popular series of designer cat caves offered by the Cat Cave Company. We listed the key specifications of these cozy cat beds and presented our in-the-field assessment of one of the products, ably assisted by Hunter – our in-house resident kitty.
Overall, we found the CatCaveCo Luxe Cat Cave Beds an excellent choice for cat cave beds that are warm, cozy and durable for everyday use. And these cat caves are available in a wide selection of hue colors and styles.
So, if you are looking for a high-quality cat cave for your kitty (or two kittens), then you definitely consider the CatCaveCo Cat Cave as one of your options.
For any more questions or comments, feel free to share them through the comment section below and we would be happy to answer them. And if you are looking for additional options, you can check out our article on the best cat cave beds.
Image credits:Amazon.com