Sure Petcare Animo Dog Activity Tracker and Behavior Monitor review
As an Amazon/CHEWY Associate, I earn from qualifying purchases.
In today's busy world, keeping a tab on your beloved dog's physical activities and behavior changes can often be a challenge. Thankfully, the advancements in wearable technology over the past few years have made this task easier and led to the introduction of dog activity trackers and behavior monitors in the market (think Fitbits for dogs).
But picking the right dog activity monitor is imperative. After all, you need a device that is convenient to wear, durable, and provides accurate, actionable information over a period of time.
So, when we got the chance of reviewing the Animo Dog Activity Tracker and Behavior Monitor by Sure Petcare, we were pretty excited, knowing Sure Petcare offers some excellent pet tech products, including the best-selling SureFeed Microchip pet feeder.
In this article, we share our evaluation of the smart Animo Dog Activity Tracker. We list the key specifications of the Animo Tracker and share our findings for each of our assessment criteria. So buckle up and read on!
Disclaimer: The review here is totally independent and is driven only by the actual quality and performance of the product, and the preference of our canine expert's dogs!
Animo Dog Activity Tracker and Behavior Monitor
The key details of the Animo dog activity tracker and behavior monitor are listed below:
Animo Dog Activity Tracker and Behavior Monitor specifications
The key specifications of the Animo Dog Behavior Monitor and Activity Tracker are listed below:
Building Material: Scratch-proof aluminum casing with rubberized plastic front. 3 different-size, silicone collar-mounting bands.
Size and Weight: 1.45″ x 0.45″, 0.78 ounces.
Sensor: 3-Axis Accelerometer and other activity sensors. Needs to be aligned for accuracy.
Water Protection: IP67 rating – immersion up to 3.3 feet (1 meter) for up to 30 minutes.
Battery: CR2032 coin cell battery that lasts for about 6 months. Easy replacement.
Memory & Algorithm: 3-week syncing memory. Self-learning algorithm that takes one week to set the baseline.
Communication Technology: Bluetooth Low Energy (BLE) 2402 MHz – 2480 MHz over a maximum syncing range of 32.8 feet (10 meters).
Syncing Application: iOS 9.0+ & Android 5.0+ supported app. Background and multi-user sync allowed.
Suitable for: All dogs breeds and sizes, but most suitable for dogs 8 lbs. or more with collars from 0.5″ – 1.25″ wide.
Primary uses: Tracks calories burnt, Physical activity, Sleep quality, and Behaviors such as shaking, barking, and scratching.
Location Tracker: No GPS or location tracking.
Technical certifications: RoHS, CE-certified.
Country of origin: Designed in Cambridge, United Kingdom. Made in China under strict quality control measures.
Warranty: One-year warranty and 100% satisfaction guaranteed commitment.
Price range: $$$.
What are dog activity trackers and how can they be useful?
As the name suggests, a dog activity tracker is a pet wearable-device that monitors the dog's level of activity (or lack of activity) using sensors and offers an update based on the average activity parameters.
The best dog activity trackers also keep a tab on physical activities that indicate behavioral changes such as excessive scratching, barking, or shaking.
The accuracy of the information given by a dog activity tracker or monitor depends upon the quality of the sensors and the underlying technology used for monitoring. These monitors can be coupled with smartphone applications to present a complete historical picture to the pet owners. The apps can sync with the monitoring device through Bluetooth or equivalent networking solutions.
Dog activity trackers and monitors can be quite useful in providing insights that can help you make informed decisions about your pet's health. Specifically, dog activity trackers and behavior monitors can help in the following ways:
Dog activity trackers can provide actionable information to help your pet loose or gain weight. This can help in monitoring general health as well as conditions such as diabetes and dermatitis.
Dog activity trackers can help in monitoring the behavioral changes such as unwarranted barking, excessive shaking, or scratching. These behavioral changes can help monitor behavioral issues such as separation, anxiety, and aggressiveness.
Dog activity trackers can also help in keeping a tab on the canine's activity levels even when not around. They can also help in monitoring sleep quality.
Dog activity trackers can provide emergency alerts if the activity level falls or jumps beyond pre-defined thresholds, allowing you to take immediate corrective actions.
The information provided by dog activity trackers can act as conversation starters with vets, behaviorists, trainers, and pet-sitters.
Most dog activity trackers support multi-user sync of data, allowing everyone in the family to keep a track on the pet's health.
Animo Dog Activity Tracker and Behavior Monitor review
To thoroughly review and evaluate the Animo Dog Activity Tracker and Behavior Monitor, we primarily focused on the building material and quality, features, in-field performance, smart app design and the price/cost of ownership. Our findings are summarized below:
Construction material and quality
The building material of the device is an essential factor as it governs the durability, reliability, water protection, and life span of the tracker.
When it comes to pet trackers, we are happy to report that the Animo Dog Monitor and Tracker has a construction quality that is second to none (In fact, it is far superior in most aspects).
The activity tracker device has a scratch-resistant aluminum back (which feels like brushed aluminum – the same type found in the some lightweight metallic wrist-watches) and a rubberized ABS plastic unit. The unit can be mounted on one of the three Silicone collar-mounting bands that come with the tracker.
The tracker device is fully waterproof and certified with a high IP67 rating. This rating means that the device can withstand water immersion up to a depth of 3.3 feet (1 meter) for a maximum of 30 minutes at a given time. This means that the device is fit for all weathers and almost all outdoor conditions. We did try a quick bucket immersion and checked the battery compartment after the dip, and it was indeed totally dry.
At a compact 1.45″ x 0.45″ and weighing only 0.78 ounces, the Animo activity tracker can be considered reasonably lightweight (it fits 0.5″ – 1.25″ wide dog collars).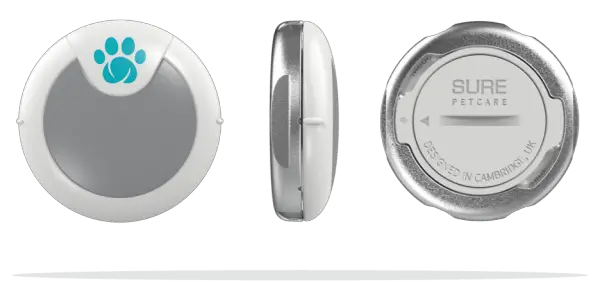 Design and features
As listed in the specifications, the Animo device is equipped with a highly accurate and reliable 3-Axis Accelerometer that tracks all detectable movements and passes the information to other sensors and storing chips in the device.
The key features offered by the Animo Behavior Monitor and Activity Tracker are summarized below:
Calories burnt: The Animo tracker device captures the calories consumed against each type of movement by the canine and presents an aggregate picture. This calorie calculation is based on the established industry standards based on the dog's weight, neutering status, age, and physique. The device also takes the calories burnt during inactive periods into account to provide accurate data. The integrated App also includes guidance on the optimum calorie levels.
Activity: The accelerometer plays a significant role in keeping track of the dog's daily hours and minutes of activity. The activity levels are then reported based on the intelligence collected in the first 7-days of usage (the algorithm is self-learning and aligns precisely to your pet instead of any generic standards).
Sleep and rest: The sleeping score (on a scale of 100) is also tracked based on the length, continuity, and amount of movement during the sleep. You just need to specify the dog's sleeping hours for better accuracy. Similarly, the device also tracks periods of rest or inactivity during the active dog day.
Behavior monitoring: The quality of data collected and reported on behavioral aspects is a major differentiator for the Animo. The Animo can accurately detect when your dog barks, scratches, or shakes and alerts you whenever there is a significant increase in any of these behaviors. This can be very useful in identifying any issues very early.
The Animo is, however, not equipped with a GPS system, so it cannot be used for tracking the location of the pet.
All the circuitry in the Animo tracker is powered by a single CR2032 coin battery. A single cell can last for around 6 months, and you would get notifications on the App when it is time to install a new one. Battery replacement is not too tricky – you can replace the battery without detaching the mounting ring from the collar. You only need to ensure the device is aligned properly after the battery change (as specified in the manual).
In-field performance
When it comes to the in-field performance, we found the Animo activity tracker as doing a little more than what it is advertised to do – a not-so-surprising outcome considering our experience with their Surefeed Microchip cat feeder.
As stated above, the Animo tracker package includes 3 silicone mounting bands to attach the device to the collar, and our expert used the mid-sized one. The included user manual provides excellent guidance on how to orient the device properly for accurate reading – make sure you consult it before setting up the device.
The device is quite compact and lightweight. It does not feel too big on a 30-35 lbs. pet, though some toy-breed owners felt that it was too big for their 6-7 lbs. dog (it is advertised to work on all collars from 0.5 inches to 1.25 inches wide). Therefore, we recommend you to consider this product only if you have an 8+ lbs. pet.
Once the device is attached, it immediately starts collecting data, and you can sync the smartphone application (details below). It is advised that you let the device collect information for the initial 7-days to build self-learning intelligence about the normal activity levels. Post the initial period, you can then choose to define the daily goals and the favorite activities to track and notify about and so on.
We and many other customers found the information presented by the Animo tracker as quite accurate and reliable. You can keep a tab on the activity level, sleep quality, resting periods, and different behavioral activities such as barking and scratching – all presented for a 24-hour period, in 30-minute increments with a 15-20 second time accuracy.
When it comes to water protection, the Animo device is really scratch-resistant, grime-proof, and waterproof. You can have your pooch get dirty in the mud, roam around in the light rain, or even take a quick dip in the pool – the hermetically-sealed device stays safe and secure in the casing. Just wipe it and the collar with a dry cloth.
One of the biggest positives of the Animo tracker is its superior battery life. It only needs a standard CR2032 coin battery, which lasts for over 6 months. So, you do not need to charge and recharge the device frequently – a big plus over other dog activity monitors. Changing the battery is pretty convenient, and you can do it without removing it from the silicone mount – just remember to re-align it properly for accurate reporting.
It is important to emphasize that the Animo Tracker does not come with GPS connectivity, so you cannot use it for tracking the location of your pet. Moreover, it does not monitor the heart rate or body temperature (not a big deal as such a collar-monitor would anyway not be too accurate).
Overall, we were impressed with the performance of the Animo tracker. As advertised by the manufacturer and reported by many pet owners, you can use the Animo to keep a tab on:
Dog's daily activity levels and behaviors for a general healthy life.
Dog's rehabilitation after a surgery or treatment to an ailment like diabetes, arthritis, or dermatitis.
Dog's behavior after a change in the environment, schedule, or introduction of a new pet or family member.
Smartphone application
The Animo smartphone application is an excellent indicator of the thoughtful effort Sure Petcare has put into the product – it is easy-to-setup, extremely intuitive, and user-friendly. And every update (especially the updates around syncing of the App with the device) makes it just more useful – we even had an update during the evaluation period.
The Animo application is available on both Android (5.0 or above) and iOS (9.0 or above) platforms and works seamlessly with different screen sizes. The App is designed to sync with the device automatically or as configured through the Bluetooth Low Energy (2402 MHz – 2480 MHz, < 11.5 dBm radio frequency).
The syncing range is advertised at 10 meters or 32 feet away, though we were even able to sync from about 35 feet away. (Note: If you get an error while syncing, try to re-initiate the sync or restart the application. This can occasionally happen due to the loss of connectivity at a critical juncture).
The application has a main dashboard that can be used to get a summary view of your doggo's activity and behavior. You can then choose to dig deep in each of the tracking and monitoring information as desired. You can even set a particular activity as your favorite and receive notifications when the goal for the day is achieved. This favorite activity tracking information is also readily available in the tracking history.
The application is designed to capture the data in 30-minute increments and can store information for up to 3 weeks. However, we could not figure out an easy way to export historical data, except for taking screen-captures and saving the photos. Maybe a feature for the future application updates!
And that is not all – the Animo smartphone application offers automatic background syncing when in the range. And it supports multi-user sync – other family members, pet-sitters, and friends can also sync from your App and get the same insights.
Warranty and support
The Sure Petcare products in general, and the Animo Activity tracker in particular, are all backed by excellent satisfaction guaranteed commitments and after-sale support. Trust us, almost all the pet parents that we surveyed mentioned this as one of the major positives for all the Sure Petcare Products – Surefeed selective pet feeder, Microchip cat door, and so on.
Specifically, each Animo monitor is backed by a 30-day satisfaction guaranteed or money back commitment and a hassle-free, one-year warranty against any manufacturing defects. All purchases are well supported by a super-helpful and dedicated customer service network.
If you're not 100% satisfied with the product or have a query, you can contact their friendly customer service for an exchange or refund – a big testament to the quality of these products.
The customer support service follows the "get it right" mantra – customers have reported that the support executives even provide assistance outside the warranty period (we called their customer care more than three times, and they patiently answered all our queries without needing any commitment on purchasing the product).
Just make sure you make your purchase directly from the Sure Petcare website or authorized resellers to avoid any fakes or defective products.
Price
When it comes to the price of ownership, the Animo tracker is not the cheapest option in the market and is about 10-15% costlier than most other options in the market.
But, in our opinion you do get what you pay for – high-quality, waterproof construction, better battery life, superior accuracy and versatile operation making your purchase worth the price, especially if you are forced to leave your pet alone, or the doggo has a history of health and behavioral issues.
The Verdict
Based on our evaluation and review of the product specifications, the overall features, and in-use performance, we believe that the Animo Dog Activity Tracker and Behavior Monitor is an excellent dog activity monitoring product for almost all dog breeds.
The Animo Dog Activity Tracker and Behavior Monitor is well-built, reasonably accurate, and provides useful information and insights on your pet's daily activity and behavior.
Pros
Smart and reliable dog activity tracker and behavior monitor with a high-quality metal casing and an adaptive self-learning algorithm to provide accurate, actionable information.
Compact and lightweight. Fully-waterproof with IP67 rating – allows immersion in water and snow.
Versatile and rich in features. Can be used to track calories burnt, activity, rest quality, and behaviors such as shaking, barking, and scratching. Equipped with an accurate 3-axis accelerometer sensor.
Supported by an intuitive and easy-to-use syncing smartphone application (iOS/Android) that supports 3-week of tracking and multi-user sync through Bluetooth.
Powered by a CR2032 coin battery that lasts for six months – better than most other dog activity monitors.
Backed by a hassle-free money back for 30 days and a one-year warranty against manufacturing defects. Supported by a dedicated customer support service.
Cons
Does not come with a heart rate monitor or a GPS – so cannot double-up as location tracker.
Though only 0.78 lbs., the tracker may not be suitable for toy-breed pets weighing less than 8 lbs.
Costlier than some other dog activity monitors, although you get better accuracy and insights.
Final Thoughts on the Animo Dog Activity Tracker and Behavior Monitor
Keeping track of your canine's physical activity and monitor any behavioral changes can often be a challenge in today's always on-the-move life. The emergence of these requirements, coupled with the advancements in wearable pet technology, has led to the introduction of many dog activity trackers in the market.
But not all activity trackers and behavior monitors are created equal, and you need a tracker that is smart, accurate, and convenient for the canine.
In this article, we shared our review of one of the most popular dog activity trackers available in the market – the Animo Dog Activity Tracker and Behavior Monitor by Sure Petcare. We discussed the key specifications and features of this smart product and shared our findings.
Overall, we found the Animo Tracker as a high-quality, useful, and accurate device to keep a tab on your canine's health and behavior. It may be costlier than some other activity trackers, but it definitely offers excellent price-to-quality combination. And it is reasonably lightweight and un-intruding for the dog to wear.
So, you are in the market for some kind of activity tracker or monitor for your pooch, then you can consider the Animo Tracker and Monitor as one of the options.
For any more questions or comments, feel free to share them through the comment section below, and we would be happy to answer them. And if you are looking for some additional interactive dog toys, some of which can also track pet activity, check out our article on the best smart dog toys.
Image credits: Amazon.com